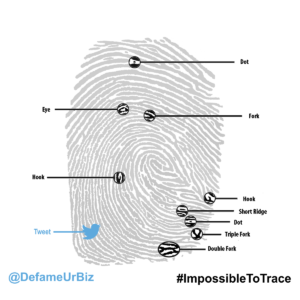 Who was behind an accelerating series of defamatory content about a business and its two primary owners?
Google searches for the business and for the names of each partner were showing falsehoods, stating that the business was engaged in crime, and Photoshopped images were showing up on all search engines that were… unflattering.
We traced the source of the defamatory content to a specific Twitter account.
Within a month of tracking tweeting behavior, profiling writing style, and the kind of PI work no Online Reputation Management firm could perform, we got photos and the name and address of the defamer.
The suspect tried to cover his tracks by deleting the tweets and the account. Our legal team had already secured that Twitter preserve all evidence for litigation and a subsequent damages settlement.
Defamers leave fingerprints. Even anonymous defamers. You need "out of the box" thinking and tools to remedy the problem. SEO isn't sufficient.
When it isn't enough to delete or bury defamation, but you want to get your attacker… contact us.