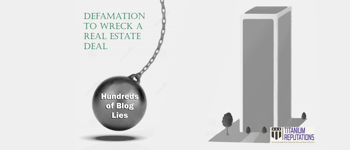 What happens when a real estate developer with a multi-million dollar deal in the works discovers that, out of nowhere, hundreds of blog posts mentioning the principal partner are written to harm the developer's reputation?
A discrete solution was needed.  Pronto.
The Titanium Reputations team analyzed the extent of the damage, assessed who was behind it, provided short-term amelioration services and a comprehensive strategy which resulted in erasing much of the damage and rendering most of the rest virtually invisible.